20,000 Less People In Singapore Each Day During Covid Year?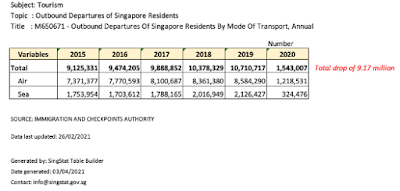 FOREIGN VISITORS
From Singapore Tourism Board (STB) as below…
"Singapore attracted approximately 19.1 million visitors in 2019 with receipts at S$27.1 billion, according to preliminary figures by the Singapore Tourism Board."
"Due to unprecedented global travel restrictions and border closures, Singapore saw a decline in both visitor arrivals and tourism receipts in 2020. Visitor arrivals fell by 85.7 per cent in 2020 to reach 2.7 million visitors (nearly all from the first two months of 2020), while tourism receipts declined by 78.4 per cent to S$4.4 billion in the first three quarters of 2020."
This translates statically to a net decrease of 16.4 million overseas visitors during covid year.


And it pro-rates to 1.37 million lesser overseas visitors per month in Singapore.
OUTBOUND TRAVEL
Prior to Covid in 2019, Singapore residents made a total of 10.7 million outbound departures compared to in 2020 where there were a total of 1.5 million outbound departures. See table below.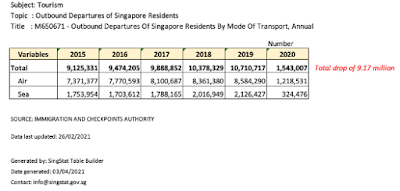 Source: https://www.singstat.gov.sg/find-data/search-by-theme/industry/tourism/latest-data
This means that 9.2 million more Singapore residents stayed in Singapore during covid year.


And it pro-rates to 767 thousand more Singapore residents in the country per month.
NET EFFECT
Overall statically and for reference purpose,
There were 7.2 million less people in Singapore during covid year. (i.e. 16.4 minus 9.2 million)
On average per month, you will have 600 thousand less people in Singapore
On average per day, you will have 20 thousand less people in the country