Most people should have heard or seen the ad "DOWNLOAD MOOMOO".
WHAT IS MOOMOO?
moomoo is a trading platform that is a subsidiary of NASDAQ-listed Futu Holdings Limited (Nasdaq: FUTU) (富途), backed by  Tencent, Sequoia Capital and Matrix Partners. Futu's founder Leaf Li is a founding employee of Tencent.
Futu Holding Limited and its subsidiaries have 43 licenses globally in major financial markets such as United States, Hong Kong, Singapore and others. In Singapore, capital markets products and services on moomoo are offered by Futu Singapore Pte. Ltd. (FUTU SG) licensed and regulated by the Monetary Authority of Singapore (MAS) (Licence No. CM101000).
So it is totally legit.
After almost 9 years of development, Futu's proprietary trading platform has garnered over 15 million users from more than 200 regions and regions around the world, with more than one million average daily active users.
SIGN UP PROMOTION NOW
Free Apple share (worth ~$200) + $88 cash coupon
Campaign period:2nd Sep at 20:00 hrs SGT- 2nd Oct at 19:59 hrs SGT
Sign-up: 180 days unlimited commission-free trading for the US, HK & SG stock market.
Successfully open a FUTU SG Securities Account
(i) Free access to Lvl 2 Market Data for the US stock market
(ii) Free access to Lvl 1 Market Data for the SG stock market
(iii) Free access to Lvl 1 Market Data for China A Shares market data
Deposit Rewards:
SGD 88 cash coupon for the First Deposit of ≥ SGD 2,700 , USD 2,000 or HKD 16,000. (Only from 17 September at 20:00 hrs SGT to 30 September at 23:59 hrs SGT) LIMITED PERIOD ONLY
1 Free Apple (AAPL) share worth around SGD 200* for the First Deposit of ≥ SGD 2,700 , USD 2,000 or HKD 16,000 & Trade 5 times on any market and product except Futures. (Limited redemptions of 15,000 shares only.)
COMMISSION COMPARISONS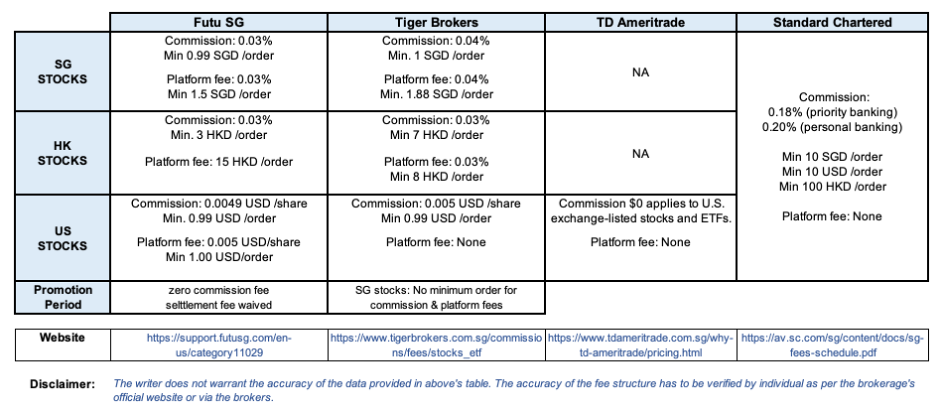 SIGN UP
Personally this is my 4th trading platforms (L&T, SCB, TDA, moomoo) signed up. moomoo powered by FUTU is by far, the easiest and fastest to get approval. For local residents, you can use your SingPass to link the signing up.
New user can use this SPECIAL LINK to sign up first and then download the moomoo APP.
Next, click on "Claim Now" and enter your mobile number, hit send on verification code and slide the puzzle to get the verification code to fill up. Click open Account now.

Next, and choose your citizenship.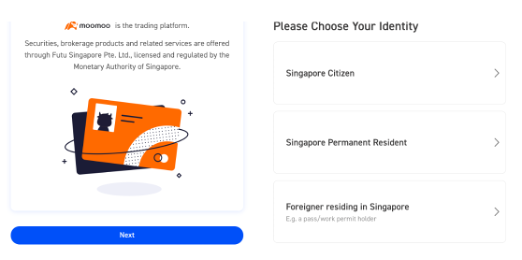 Key your desired Password and enter your Email.
If you have a singpass account, the following screen will pop up. Click "Go to Myinfo" and use your singpass to scan and login to proceed.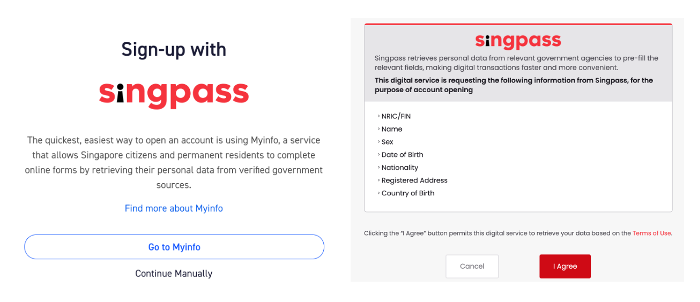 After you agree to release your data, Futu SG will be automatically populated by your personal data. Click "Next" if all is correct.

Answer the Tax info and click Next and you will be brought to a screen to answer/declare your employment and financial / shareholder info.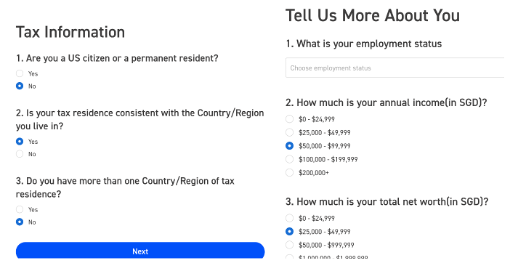 Question 8 onwards is more about your trading experience. If you answer no, it will bring you to more questions. And if you have no trading experience and no working experience, it is advisable to attend an online course at SGX online education.
Program: https://onlineeducation.sgx.com/specifiedinvestmentproducts/
Next, you need to read the Risk Disclosure information and declare.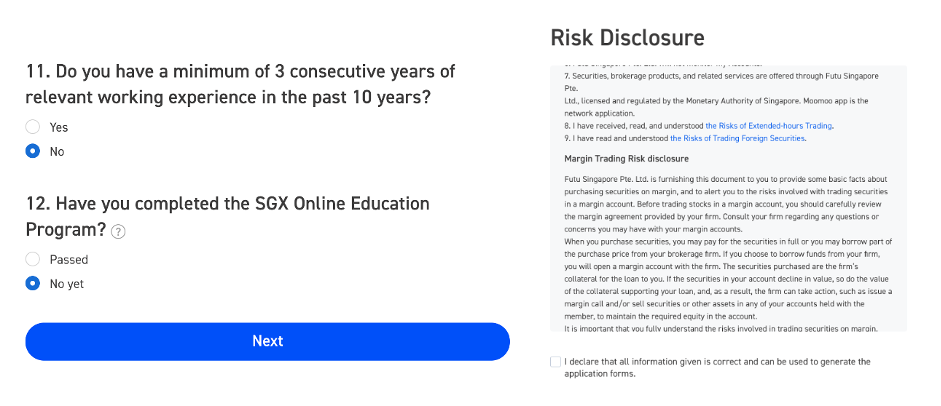 Finally, if all is read and understand and declared truthfully, you can just type in your Signature. Once you click "Submit", Futu SG will advise that your application has been received and that it will take 1-3 business days to activate.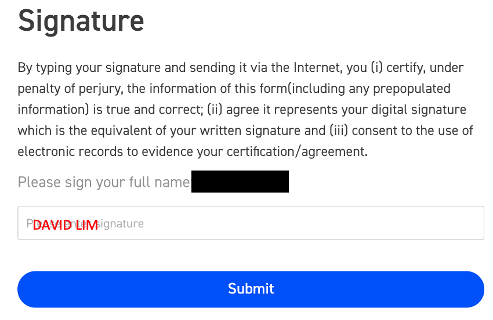 Launch your app and Login.

That's it.
HOW TO TRANSFER FUNDS 
If you have POSB/DBS, use instant Deposit via DDA. This will be easy as you just need to link the account and follow the instructions accordingly. See below screenshot.

OTHER INFORMATION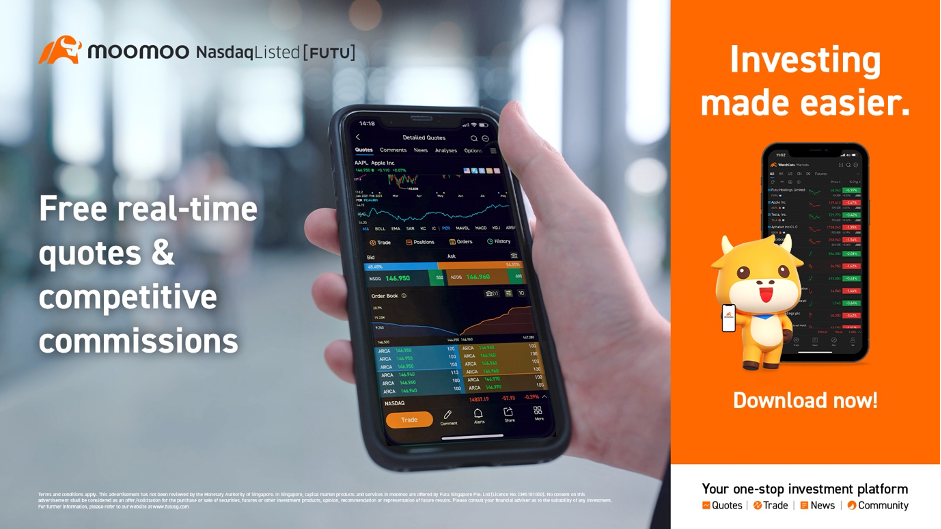 "Free real-time quotes and competitive commissions"
Level 2 market data for the US market which displays real-time bids, asks and stock quotes
Level 1 real-time SGX Securities SG market data and 24/7 aggregated updates
Level 1 China A Shares market data which displays real-time bids, asks and stock quotes
"Competitive commissions to comparatively increase your profit for every trade"
The platform also offers some of the lowest fees and trading minimums in Singapore for investing in Hong Kong and U.S. securities, futures and options, set out to make an activity previously reserved for at least somewhat affluent and financially literate investors more affordable and engaging for the broader market.
"Centralised information & global community"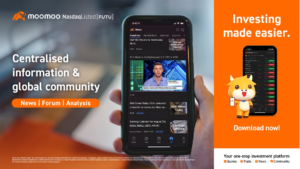 Everything you need to know for your next trade available all in one app

24/7 updated headlines and news
Earnings Calendar
Ratios and analysis
Graphs and up to 29 chart patterns and drawing tools
Company introductions, announcements, financial reports, conference calls
Competitor research

Making it fuss-free for you to capitalise new market opportunities
moomoo app filters popular stocks across stock markets under "Heat Lists" based on trading volume, search volume and news volume to help you identify what is hot in the market! Feel free to also screen stocks based on your own philosophies using our in-app "Stock Screener"!
Get in touch with the general public sentiment before you trade
Engage with others, gain new perspectives and express your opinions with our 15 million strong moo community from all over the world. moomoo community feature will allow you to gain deeper insights before you trade.
Don't forget to pick up on some moo merchandise!
moomoo figurines, neck pillows and cushions seem to always be a conversation starter on our forums. Grab your own at "Rewards Club" with your points earned before they run out!
 "Learning courses & 24 hours customer service"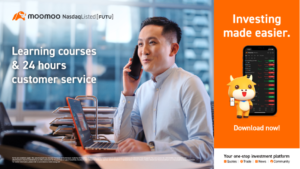 Free trading guides and courses available to you 24/7, even on-the-go
From absolute beginners to advance traders wanting to learn a new financial product, moomoo have something for you to upgrade your investing knowledge and skills. moomoo have more than 20 complete online courses and videos that covers across Stocks, IPOs, Options, ETFs for all customers to upskill!
Enjoy 24 hours customer service on trading days for a peace of mind – Futu prides itself in putting our users' experience as a priority. Within the App, customers can use our in-app live chat function via "customer service" where a customer service representative will attend to your questions.
Additional customer service support available via our in-app "Help Center", hotline, email and social media platforms

"Help Center" via in-app
Email: clientservice@futusg.com
Social media: @moomoosingapore
Customer service line: +65 6321 8888 (working day:24 hours, Weekdays: 9am – 9:30pm)
PS: This article is written in collaboration with FUTU Singapore Pte. Ltd.