Starhill Global REIT (SGREIT), a S-REIT with portfolio in real estate mainly for retail and office, announced its 2H FY20/21 result last week.
SGREIT has 10 properties worth close to S$3 Billions. 2 in Singapore (Ngee Ann City & Wisma); 3 in Australia (Myer Ctr &  David Jones in Adelaide and Plaza Arcade Perth); 2 in Malaysia (The Starhill & Lot 10 in KL); a retail property in Chengdu, China, and 2 properties in Tokyo, Japan.
2H FY 20/21 RESULTS
SGREIT announced 2H FY 20/21 results last week. YOY, NPI increase 20.2% and DPU increase of 195.7%. Excluding the deferred portion retain last year as prudent measure against Covid, payout still increase by an impressive 77.1% yoy.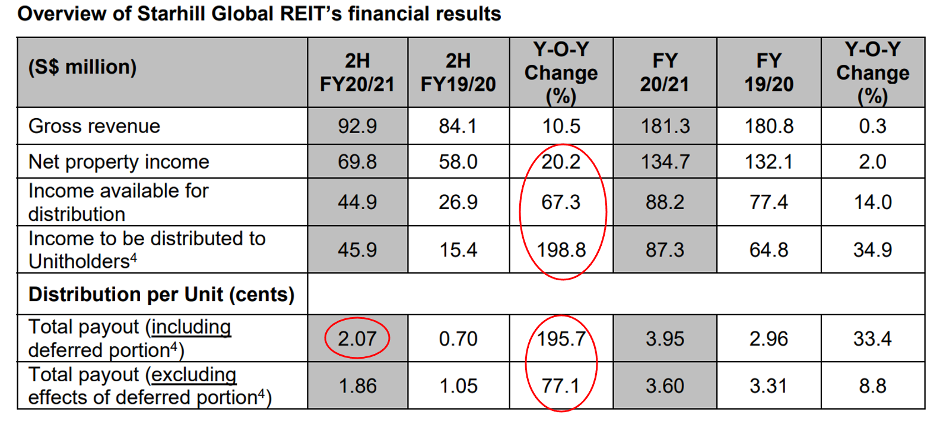 Source: https://starhillglobalreit.listedcompany.com
DPU for 2H FY20/21 was 2.07 cents, and for  FY20/21, it was 3.95 cents. This is an annual yield of 6.4% at current price of 62 cents.
Excluding the effects of the deferred portion of 0.35 cents per unit, DPU for FY20/21 was 8.8% higher y-o-y.
Unitholders can expect to receive their 2H FY20/21 DPU on 24 September 2021. Record date is on 6 August 2021 at 5.00 pm.
GREAT PERFORMANCE IN SHARE PRICE SINCE LAST SEPTEMBER
If you will have buy into SGREIT since end of last September, it should be one of your best performing S-REIT that focus on retail and office. Refer below table.
Stocks
Price (S$)

30 Sep 2020

Price (S$)

30 July 2020

% Change of Price per share
CLCT
1.10
1.40
27.3%
Fraser Ctr Tr
2.37
2.42
2.1%
Lendlease Gbl Commercial REIT
0.68
0.87
27.9%
SPH REIT
0.885
0.915
3.4%
Starhill Gbl REIT
0.44
0.62
40.9%
Suntec REIT
1.45
1.46
0.7%
SGREIT sees a whopping share price increase of 40.9% since last September.
Consider a 20,000 shares bought at S$0.45 in Oct 2020 at S$9,000, and at today's share price of 0.62:
Capital Appreciation; S$12,400- S$9,000 = S$3,400
Dividend: 3.95ct x 20,000 = S$790
Total Gains = S$4,190 i.e. 47%  increase in 10 months period. This is extremely good for a S-REIT's counter.
WHAT LIES IN THE FUTURE
The first half year's good result is mainly due to lower rental reliefs for tenants, and also attributed to this year first five months re-opening of malls in Singapore,  and the strengthening of AUD against SGD in most part of this first half year also help in increasing the revenue from the Australian assets.
The negatives
Expect that results may be dampened for the second half of the year due to Covid locked down in Singapore after May 2021, as well as Malaysia full locked down Movement Control Orders (MCO) after 27 Jun 2021. Rental assistance/rebates will be catered for eligible tenants in Malaysia as well as in Australia amounted to approx. S$9.6 million in FY20/21.
Furthermore, I expect tourist arrival to Singapore will be very limited this year as many neighbouring countries are still struggling with Covid control and vaccinations. Furthermore, from the experiences drawn from the recent increase in Covid clusters, I do not expect Singapore government to open the borders any time soon.
With office workers mostly work from home, lack of tourists, and most of the sub-urban malls well-established to attract neighbourhood residents, shopper traffic in Orchard area may continue to see increasing threat, unless the borders are opened.
The positives
Wisma Atria is undergoing upgrading works and The Starhill in Malaysia is also undergoing asset enhancement works and schedule to be completed by end of this year.  This may hopefully attract more shoppers.
Despite various (MCOs) imposed due to COVID-19, our Malaysia portfolio attracted new tenants in FY20/21, including Lot 10's opening of Jonetz by Don Don Donki. After AE works, The Starhill, the luxury mall will feature Taiwan's renowned lifestyle bookstore chain, Eslite Spectrum, as its anchor tenant, with a more than 70K sq ft store target to open in 2022.
Overall, Portfolio occupancy is still resilient at 96.7%, with retail side at 97.5%.  Gearing is stable at 36.1% and no term debt maturities until September 2022.
Net Asset Value is S$0.81 as of end June 2021. This is still a 23% book value discount at current price.
Buy, Hold or Sell?
Frankly, I do not think I will add more shares of SGREIT right now, because I expect poorer results in the second half of this year, assuming share price is stable.
My average price of SGREIT is around ~S$0.45, so I reckon I will continue to hold on to the shares and collect my dividends.
If share price further appreciates, and there are more attractive priced stocks with good dividends, I may consider to sell a portion of it.
Conclusion: HOLD.
PS: I own stocks of SGREIT at the time of writing.
Please read disclaimer as follows and please click disclaimer tab "here".