CapitaLand China Trust (CLCT)'s Singapore's largest China-focused REIT announced its 1H2021 result this week. CLCT's portfolio constitutes 11 shopping malls and five business park properties with diversified portfolio of total GFA approx. 1.7 million sqm located across 10 Chinese cities.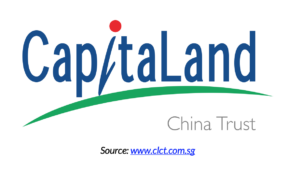 It was a set of strong figures. 1H2021 distributable income (DI) and Net Property Income (NPI) rose yoy by 72.9% and 84.4% respectively.
The yoy growth rates in DI and NPI were the highest since CLCT's listing in 2006.
DPU also rose 40.1% to 4.23 cents compared to 3.02 cents for 1H2020. Unitholders are expecting to receive 1H 2021 DPU on 27 Sep 2021 based on Record Date of 6 Aug 2021.
From CLCT press release:
"This was mainly due to new contribution from its business park portfolio1 , 100% contribution from Rock Square 2 and new contribution from CapitaMall Nuohemule3 , partially offset by the absence of contribution from CapitaMall Minzhongleyuan and CapitaMall Saihan following their divestment on 10 Feb and 7 Jun 2021 respectively.
NPI was further boosted by stronger operating performance at CLCT's malls, including lower tenant reliefs and higher rent collections, as well as higher occupancy and rental reversions at its business park properties."
Occupancy of Retail and Business Park Portfolio also increase since last year.
Retail occupancy rose from 93.4% in 1H 2020 to 95.4% in 1H 2021. In general, Beijing malls shopper traffic improved due to better covid containment, and there are also higher tenant sales in 1H 2021 led primarily by Food & Beverages and Jewellery / watches and Services.
Business Park occupancy also increase from 91.5% in 3Q 2020 to 94.0% in 1H 2021.
SINCE MY LAST ARTICLE
Read: Why Did CRCT Share Price Increase By More Than 5 Percent In The Last One Week
Read: CapitaLand Retail China Trust (CRCT) – Why it is a Dividend and Growth Gem & Why It Is Greatly Undervalued Compared to the Rest of SGX REITs and Trusts?
Last October, I  wrote that CLCT's share price is at all time low at S$1.10 and even after it rose to 1.14, it is still greatly under-valued.
Since then, CLCT's share price has rose 23% from S$1.14 to 1.40, excluding the DPU of 2.75 cents paid out in Dec 2020, before the enlarged share base.
Theoretically, if 2nd half's DPU is maintained, assuming 8.46 cents Full Year, it will translate to a dividend yield of: 6.0% at current price of S$1.40 per share, or 7.4% if you will have bought at S$1.14.
Consider a 10,000 shares bought at S$1.14 in Oct 2020 at S$11,400, you will have earn:
S$14,000 – 11,400 = S$2,600
Dividend 2H2020 = S$275
Dividend 1H2021 = S$423
Total Gains = S$3,298 i.e. 29% in 10 months period which is not too bad for a S-REIT's counter.
PRICE COMPARISONS TO OTHER SIMILAR S-REITS SINCE SEP 2020
Stocks
Price (S$)

30 Sep 2020

Price (S$)

30 July 2020

% Change of Price per share
CLCT
1.10
1.40
27.3%
Fraser Ctr Tr
2.37
2.42
2.1%
SPH REIT
0.885
0.915
3.4%
Starhill Gbl REIT
0.44
0.62
40.9%
Suntec REIT
1.45
1.46
0.7%
CLCT current share price of S$1.40 represents a rise of close to 27% since Sep last year. Compare to other similar S-REITS in Singapore, it is one of the best performing in terms of price appreciation, other than Starhill Global REIT.
Apparently, I also took a bite of Starhill Global back then, and thank God for that.
CLCT's Price to Book ratio is 0.89.
FUTURE IS STILL BRIGHT
Despite the rise of share price for CLCT, I still reckon that the future of the company is very bright.
I have been traveling to China since 2004 for business, and Chinese people love to go out of their home and primarily to malls for meals, meet up friends with  and "walk-walk".
China government is also encouraging local consumption and it is undoubtedly that China's household income will continue to rise from the urbanisation growth of the middle-income population.
Leading cities in China such as Beijing, Shanghai, Guangzhou, Chengdu, Harbin in which CLCT has foothold in, will either have higher consumption or will at least maintain consumption with higher consumer index.
I also feel that business parks focusing on innovation and technology will continue to exert growing importance in China, as more businesses switch from manufacturing to technology.
So, stay invested in CLCT.
PS: I own stocks of CLCT and Starhill Global REIT at the time of writing.
Please read disclaimer as follows and please click disclaimer tab "here".